Iconoclast
More information about Iconoclast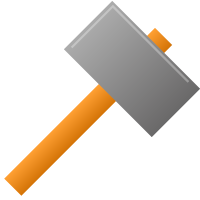 If you're interested in using Iconoclast, you need to know how we're gathering your information and what we're doing with it.
It is often said, "If you get something for free, you're the product." At East Jordan Church, that simply isn't the case. As a ministry, we consider the security of your private information to be of the utmost importance. At East Jordan, we collect only that information which we consider to be essential to running the site. Personally identifiable information is encrypted before it is stored in our databases so that not even our webmaster can read it directly from there. The leadership of East Jordan Church Online do not read or distribute your personal information to anyone. Period.
When you use Iconoclast, it will record your web-browsing history. This history will be encrypted and stored in a file, and then the title of that file will also be encrypted so that a person looking through the files won't even be able to easily discern which one is yours. This web-browsing history file will only be decrypted by the system for the purpose of displaying it to your selected accountability partner, and you have the ability in Iconoclast to remove your partner and set up a new one at any time. Your encrypted browsing history will remain in the database for no more than 40 days, at which time it will automatically be deleted.
We require that only East Jordan Church members serve as accountability partners. Before becoming a member at East Jordan, all prospective members agree to keep strict confidentiality about any personal information they hear from other site users, and this applies most highly to Iconoclast accountability partners. If you become an accountability partner, you agree to keep the web-browsing history of your partner(s) perfectly confidential forever. In fact, as a member in this church who is performing a ministry for another person in the church, you are accountable to ministerial confidence laws, and could be held legally liable if you share information from Iconoclast with anyone, including law enforcement. If a member of East Jordan Church is determined to have violated ministerial confidence, that member can also be subject to church discipline, including being permanently banned from using East Jordan Church Online.
If you don't think you can handle accountability information with perfect secrecy, do not become an accountability partner.
With all of that said, it should be clear that East Jordan makes security a high priority, however, we cannot guarantee that information could not ever be misused. As such, the church and it's leaders and members cannot accept any liability for any information which might unintenionally be misused, and by using Iconoclast you agree that everyone involved at the church will be completely free from liability in cases of misuse, unless it can be demonstrated beyond a reasonable doubt that the misuse of information was done intentionally.